Beating Heart Comments, Animated Beating Heart Graphics for myspace, friendster, hi5, tagged.com and other community websites.
Hearts with cute sayings and greetings.
Lovesick...


Love quote "that's where I'll always be..."


It's love, baby!


"Because I would give you everything..."


Heartbreak...


Falling...


"Him"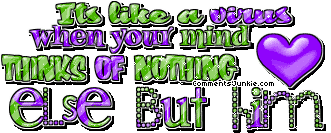 Print postage from your PC. Try Stamps.com today!
A fractured heart...


MORE (this is page 1) >> 1 | 2 | 3 | 4 | 5