New Baby Myspace Comments, Congratulations on New Baby Glitter Graphics and comment images for myspace and other community websites. "Congrats on your new baby", "Happy new baby", and more.
Rocking horse congrats

God bless your new baby PINK

BLUE

New baby Send a Cookie

Congrats on the new baby!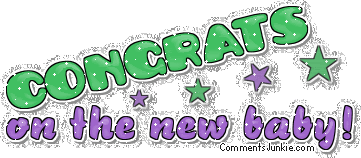 Congratulations on the new arrival!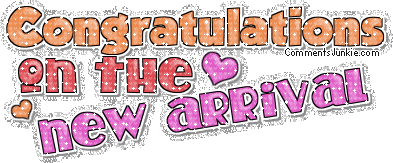 Babies touch the world with love ~ Congratulations!

Pink bassinet

MORE:
Expecting Baby 1 | Expecting Baby 2 | Expecting Baby 3
CONGRATULATIONS >> New Baby 1 | New Baby 2 | New Baby 3
New Baby 4 | New Baby 5 | New Baby 6
It's A Boy 1 | It's A Boy 2 | It's A Boy 3
It's A Girl 1 | It's A Girl 2 | It's A Girl 3
Expecting Twins | Months Left | Adopted Baby
PREGNANCY COUNTDOWN | MOTHERHOOD | PRO LIFE
---
BABY STROLLERS ~ Strollers and Car Seats.
NuevoBebe comments en Espanol @ MuchosBesitos.com
---