ZODIAC SYMBOLS
Aquarius | Aries | Cancer | Capricorn | Gemini | Leo
Libra | Pisces | Sagittarius | Scorpio | Taurus | Virgo
Also see CUSTOM ZODIAC/BIRTHDAY TAGS and our BIRTH MONTH section with birthstones and personality attributes listed.
Order ZODIAC SIGN ADDRESS LABELS at LabelShoppe.com!
Custom Zodiac Sign Personal Checks at PersonalChecks.Co!
Libra
Star Sign Libra Astrological Myspace Comment Graphics.
Zodiac dates for Libra: September 23 to October 22.
Zodiac Gemstones and Birthstones for Libra: CHRYSOLITE, PERIDOT, SAPPHIRE, JASPER.
Libra Bling Buckle

Libra Zodiac Symbol pink and blue graphics, small clip art.
| | | |
| --- | --- | --- |
| | | |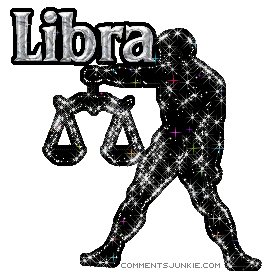 Headline News

Chinese Symbols for Libra

Dark background

Light Background